The Blue Noses, an artistic duo consisting of Alexander (Sasha) Shaburov and Vyacheslav (Slava) Mizin, was founded in 1999.  The group is known for their satirical and oft-times provocative works, which encompass photographs, videos, and performances that parody and critique Russian society, art, politics, and religion. Using decidedly low-tech methods in their artistic endeavors, their works are often marked by black humor and some have labeled them as modern-day yurodivy, street people who, during medieval times, were believed to both insane and touched by God. "For me, I don't like this kind of art. They're trying to represent the ironic tradition, called yurodivy, which is well known here and characteristic of the Middle Ages," [1] notes Moscow-based art critic Misha Sidlin. However, despite his stated dislike for the duo, he recognizes that the Blue Noses have a unique talent for livening up ordinarily sleepy biennials with a brand of humor that everybody understands.
The group was born when Shaburov and Mizin, working together on a millennium project entitled "Shelter Beyond Time," took up residence in an underground bomb shelter to experience life as it might be after a nuclear disaster.[2] Inspired by the fears surrounding the so-called "Y2K disaster," the pair spent three days in an abandoned bomb shelter in the center of Novosibirsk without clocks, alcohol, or contact with the outside world. Although they originally intended to live without technology of any sort, one of the artists broke the rules and smuggled in a video camera.[3] As boredom set in, the two filmed so-called "absurdist video gags," which included placing blue bottle caps on their noses, and so the group "The Blue Noses" was born.  Although they initially had some doubts about working together, as both wanted to pursue individual art careers, they were once more pushed together at a biennale, when they both discovered that their hotel had no record of their reservations under their individual names. Rather, they were listed under the group name "The Blue Noses."[4] In an interview with Voina's Alexei Plutser-Sarno, Shaburov stated that, "until about the age of 30, like all normal artists, we didn't consider each other to be artists. Each thought that he was the best, and nobody else was any good! Slava is from Novosibirsk, but then he moved to Sverdlovsk… However, when we both moved to Moscow, it seemed that they didn't distinguish between Sverdlovsk and Novosibirsk, the Urals and Siberia. "[5] Since 2000, the two have worked together to produce politically and socially controversial art.
Sasha Shaburov was born in Sverdlovsk Oblast in 1965, and graduated from Sverdlovsk Art School in 1985.[6] After graduation, he worked for a time as a mortuary photographer, but by the late 1990s shifted his focus to creating art from everyday situations.[7] In 1998, he received a grant from the Soros Foundation in order to have extensive dental work performed on himself and photographed into a series which he entitled "Teeth Filling and Fitting."[8] From the look of the pictures, it may well have been his first trip to the dentist ever.
Slava Mizin, who was born in Novosibirsk in 1962 and graduated from the Novosibirsk Architectural Institute in 1984, also saw his body as an artistic canvas. However, this realization was the result of drunkenly passing out in a snow drift and suffering from a frost-bitten lung. After this period, he started a series of works known as "Fate," in which he placed his penis on various objects and photographed it, creating a "mythological life cycle" for it.[9]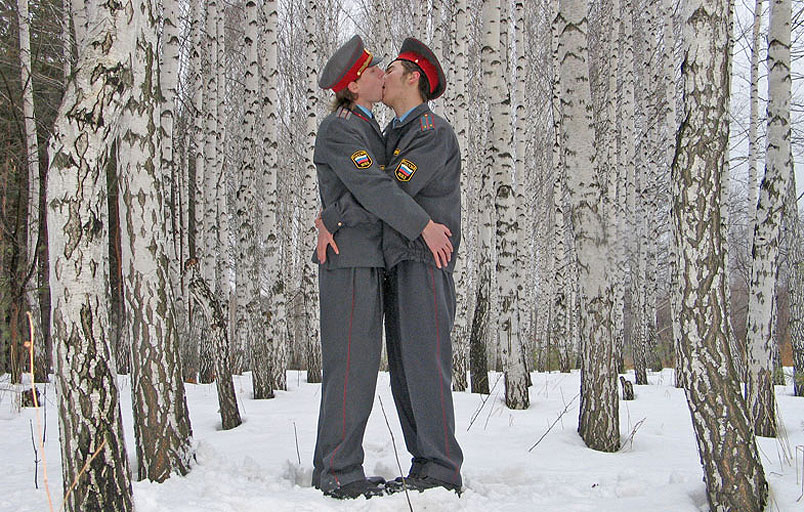 Perhaps the duo's most well-known project is the photograph, "Era of Mercy," which features two Russian policemen locked in a passionate embrace in the midst of a snowy birch forest.  The color photograph, shot in 2005, is now in the possession of contemporary art collector Igor Markin, but created quite a stir when it was first displayed, although it is unlikely that the piece would have attracted the same type of reaction in the West. The piece was reputedly inspired by British street artist Banky's "Kissing Policemen," which, although defaced by vandals, was protected and became a point of pride for Brighton, the city in which it was painted. Although set to be displayed in Paris at a SotsArt display in 2007, "Era of Mercy" was detained by then Culture Minister Alexander Sokolov, who labelled the photograph erotic and a disgrace to Russia.[10]
Consequently, the photograph remained in Russia and was not displayed in Paris, although it did make the front pages of several international papers, perhaps garnering more global attention than it would have had it been displayed without fuss in Paris. However, in an ironic twist, the same piece had been displayed by Moscow's Tretyakov Gallery and Andrei Sakharov Center earlier in the year. Somewhat surprisingly for a country marked by open displays of homophobia, the photograph enjoyed a degree of support from certain circles in Russia. At the opening of the 2007 Kandinsky prize ceremony "two threatening police officers entered the hall from opposite sides.  They moved to the center of the stage, embraced and passionately kissed as the crowd burst into applause." [11]
Also in 2005, the duo created another controversial photograph with their piece entitled "Chechen Marilyn." Modeled after the (in)famous photograph of Marilyn Monroe on a heat vent, the photograph depicts a woman dressed in black burqa with hands visibly flaring her skirt up and out in the style of Marilyn's famous photograph.  The photograph was also displayed at the Sakharov Center's exhibition of banned art alongside "Era of Mercy." After court proceedings, both Yuri Samodurov, the then director of the Center, and Andrei Yurofeev, the show's curator, were found guilty of "inciting religious and ethnic hatred," although neither was sentenced to prison.[12]
As with several other artists, the Blue Noses found themselves at the center of a debate on what constitutes religious freedom and freedom of expression in contemporary Russia, a seemingly odd position for two artists who have been described as the 'Dumb and Dumber' of the Russian contemporary arts scene. [13]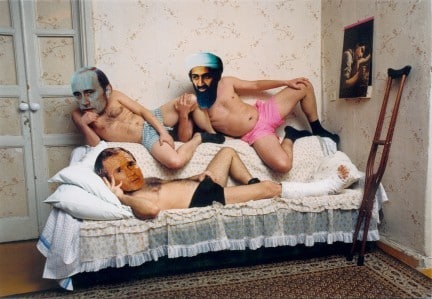 In 2006, authorities detained a shipment of works destined for the London gallery of art dealer Matthew Bown, including the 2001 photograph "Mask Show."  The piece features three men clad only in their underwear posing languidly on a couch wearing masks of Putin, Bin Laden, and George Bush. Although Helena Goscilo and Vlad Strukov assert that Russian airport officials were "hardly affronted by the trivialization of Bin Laden and Bush, [they] were outraged by a less than respectful concept of their leader."[14] The shipment of works also included "Chechen Marilyn," although it appears to have been the portrayal of political leaders that caused the most interest amongst customs officials.  Bown reported that he was told by the customs officers that the works "contain representations of heads of state and this could not pass unnoticed," despite the fact that he had all the legal documentation required to export art works out of Russia.[15] The detainment led to an investigation, and the day after Bown was stopped at the airport, the Moscow gallery from which the pieces were loaned was attacked.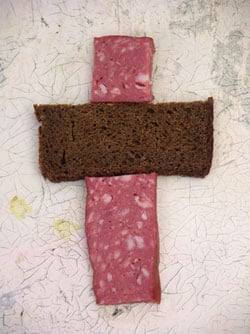 The group takes on slightly less serious topics, and enjoys irreverently poking fun at the Suprematist art movement, founded by Russian artist Kazimir Malevich in 1915. This is consistent with their parodies of Russia, past and present.  In their 2005 series, "Kitchen Suprematism," they photographed black bread, cheese and deli meat arranged in abstract geometric shapes that echoed Malevich's works.  In an earlier series of works dating to 2003 known as "Sex Suprematism," they appropriate traditional Suprematist motifs in order to create bodies, and featured photographs of their heads with comic-book style dialog bubbles uttering sexually-provocative phrases.
Despite being labeled the "Dumb and Dumber" of Russian art society, the Blue Noses seek to make contemporary art that is accessible to "pioneers and pensioners."[16] Despite lamenting that they have never seen a KGB agent, they have found themselves at the center of several controversies, the most well-known of which is undoubtedly that which surrounds the photograph "Era of Mercy." However, regardless of this, they have continued to create low-tech, populist art. Art collector Igor Markin has stated that "'their humor is understandable but deep in the Russian soul. Not everyone gets Blue Noses, because they make work that is a joke. [17]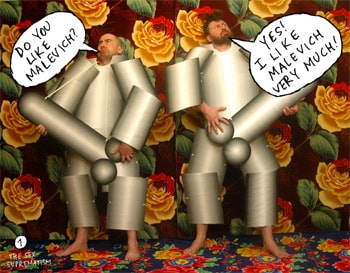 References:
1. Fitzgerald, N. (2006). The pranksters of the Russian Art Scene: 3 edition. International Herald Tribune, pp. 9.
2. Fitzgerald, N.
3. LookAtMe.ru. (n.d.). От "Мыла" до "Синих Носов".
4. ArtSalo.(n.d.) The Blue Noses Group.
5. Plutser-Sarno, A. (2009). Можно ли Продать ухо Ван Гога: Неформальное Интервью с Сашей Шабуровым (Группа Синые Носы).
6. Librusek (n.d.). Александр Евгеньевич Шабуров.
7. ArtSalo
8 . ArtSalo; For selected pictures of the series, see Marat Gelman's site.
9. ArtSalo
10. Paikova, V. (2010) Leading by the Blue Nose!
11.Varoli, J. (2009) "Bronze Tank Turret Wins Russia's First Kandinsky Art Prize" 
12. Kishkovsky, S. (2010). "Organizers of Sakharov Art Show Convicted in Moscow." The New York Times.
13. Fitzgerald, N.
14. Goscilo, H., & Strukov, V. (2011). Celebrity and Glamour in Contemporary Russia: Shocking Chic. Milton Park, Abingdon, Oxon: Routledge, p. 47.
15   ArtDaily. (n.d.). Art Dealer Matthew Bown Detained in Moscow.
16. Fitzgerald, N.
17. ArtDaily.