European fashion conjures up images of runways in Paris and Milan –thin, leggy models strutting in the season's newest (and most expensive) new gear. But for hosting two of some of the largest cities in Europe, you don't hear much about Russia when it comes to fashion. Sure, for those outside the country, and maybe even for those just outside of Russia's largest cities, "Russian fashion" might sound like nothing more than mink coats, stiletto-heeled boots (even in the winter), and fur-trimmed hats. Westerners in particular have little to go on when it comes to source material for learning about who Russians are, let alone the nuances of their fashion trends. For Russia's post-Soviet youth, one of the first generations born with a kind of clean slate for presenting who they want to be and the images they want to portray, much of that expression comes through in dress.
That's where 28-year-old fashion designer, photographer and videographer Gosha Rubchinsky comes in. He's already made quite the name for himself in Russia's two main cities with his eponymous clothing line, and he says his vision for clothing the emerging youth of Russia expands past Moscow and St. Petersburg. And while he doesn't shun fashion shows or exposure elsewhere, Rubchinsky seems to care little at all about the splash he could make abroad. "Everything that inspires me is in Russia," he told the UK art magazine Dazed in 2010. And his brand of fashion–the glossy images of his work in magazine spreads notwithstanding—is for the benefit of punks, working-class kids and those unfazed by the allure of nouveau riche sentimentality. Less fussy and certainly not runway-ready, Rubchinsky told FADER magazine in 2012, "My generation doesn't care about luxury… I don't want to make clothes for the rich."
And it shows. Rubchinsky's menswear designs are inspired by two similarly blue-collar or even no-collar calling cards – sports and punk rock. Cut-off shorts, tight T's, distressed tank tops, hoodies and sneakers – his fashions are a mix between Western sportswear (think Adidas and Kangol tracksuits) and a late 80's, early 90's punk and hardcore aesthetic. FADER put it succinctly: Rubchinsky and his friends are styled like they're out of the D.C. hardcore scene, "though most of them weren't even a glimmer in their parents' eyes when Minor Threat shared a bill with Bad Brains. Speaking with Interview magazine, Rubchinsky said, "My clothing is for my friends." It just seems that his friends must have major nostalgia for a period of fashion they neither lived through nor lived near. The aesthetic that paints most of his work almost decidedly belongs to the twentieth century West's interpretation of punk and hardcore fashion. Now, thanks to the designer, it has a Moscow twist.
Rubchinsky was just growing up when the former USSR was experiencing waves of influence from the capitalist, consumerist West, a transitionary period when Soviet times were not quite memories just yet. He told Interview that his fashions are a way of making sense of what he and others around him had available to them. "I remember going to the countryside with my friends and dressing weirdly because there was a shortage at the time. You were only allowed one pair of Levis jeans and one tracksuit from Adidas. You wore all of this together. Not because it was stylish, but because it was the only clothes you had from the West." Now, however, he's able to execute more control of how he mixes pieces, creating fashions that seem to be conversations between Russia and the West.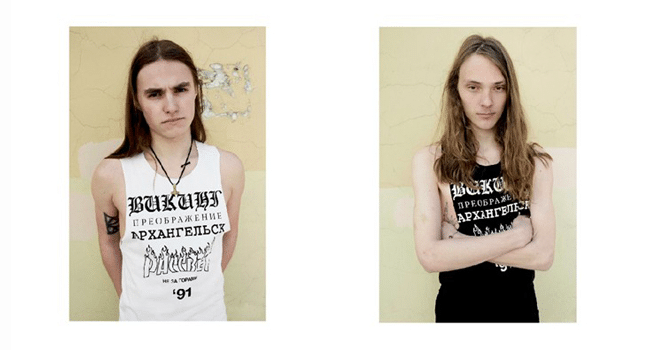 Not all of his fashions seem rough around the edges, however. His Spring 2013 collection is clean cut, though vestiges of sportswear aesthetic are still visible: Lace-up sneakers, cotton cut-off shorts, tailored sweats, knee-high sweat socks – but all with subdued, neutral colors, a bit of a departure from his previous work that included studs, face masks, and almost an entirely black color palette.
When Rubchinsky says he's making clothes for his friends, it's apparent that he really means it. His clothing may look designer-made, but it keeps in mind comfort for skaters and graffiti artists, he says. It's also of little significance to him who's actually buying the clothes. In his interview with Dazed, he said he makes clothes for Russian youth, just as a Berlin-based designer might make clothing for fellow Germans. While his works are informed by a time and place that might not entirely be his own, Rubchinsky holds a lot of respect for his language and his country. A lot of ubiquitous sports wear in Russia is simply imported, retaining the original English slogans or print. Not so with Rubchinsky's line. A back of a sports jacket reads "РОССИЯ," not "Russia."  When Western culture flooded the former Soviet Union, many young people reacted by becoming more nationalist. This nationalism now creates an aesthetic and mentality distinct to Rubchinsky's generation. "All these young people who were born after 1991 – I realized that these were the people I wanted to design for," he told Dazed.
In accordance with that philosophy, Rubchinsky's collections are usually debuted in a way suited for his generation, eschewing traditional avenues like runway shows or Fashion Weeks. His collections are instead debuted through his own video work and photography, which includes portraits of his friends wearing his fashions, as well as documentary-style videos of his friends skateboarding. His Spring 2010 collection was debuted with a performance and a video shown in Moscow in an church-turned-recreation-center, where models worked out or skated in his gear instead of walking down a runway. Other collections have been debuted in similar performances and videos, putting a youthful, anti-establishment twist on the world of contemporary fashion.
His multi-media approach is necessary, he says, telling Dazed, "Me and my team have realized that our ideas are a lot bigger than just clothes."
You can view Rubchinsky's videography, photography and 2012 and 2013 clothing line collections on his web site by clicking here.