Photography in the age of the smart phone has allowed us to become the curator of our own lives through rectangles and squares that take up space on our memory cards. Aided by this lightweight technology, we no longer need to lug cameras with us everywhere we go if we want to take pictures. Should we run into an unexpected moment in time we'd like to capture, all we need to do is whip out a smart phone – with its myriad functions and uses – and we almost never have to miss another shot.
But easy come, easy go. Our memory cards fill up and once cherished photos get deleted to make room for new ones. And when they're gone, where do they go? Unlike film photos that we can stash in boxes under the bed or in photo albums on bookshelves, digital photos vanish into the ether once we effortlessly hit 'delete.' Even the photos we upload online aren't safe from these whims, as they're just as vulnerable as becoming permanently erased the minute we deem them embarrassing or unflattering.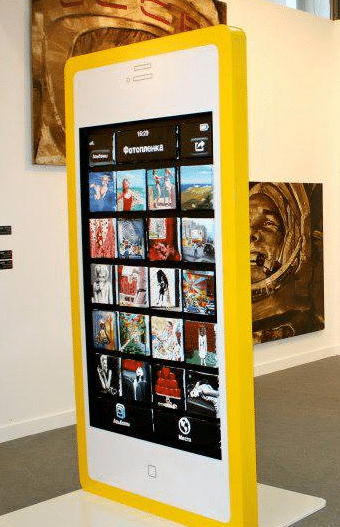 This is the thesis behind Marina Fedorova's "Photostream," now on display at the Lazarev Gallery. This graduate of the St. Petersburg Academy of Fine Arts has re-created an iPhone and picture gallery where audiences can arrange and delete photos at will. Standing two and a half meters high, this giant wooden version of Apple's flagship product comes complete with 20 mini paintings on the iPhone "screen," made to look like 20 pictures in a picture gallery.
All the usual suspects are there. The snapshot of a pretty plate of food, a fashionably dressed hipster casually leaning against a wall of black-and-white street art, a cozy bed with crumpled sheets, a day at the beach, an urban street corner – all slices of life, frozen in time in squares and rectangles on our phones.
The piece is interactive, giving viewers the opportunity to 'curate' their own photostream — re-arranging the individually painted squares to create a scene, tell a story, or have no narrative whatsoever. Viewers can even choose to exclude photos from their photostream, leaving unwanted (deleted) photos off to the side. Some photos even have borders like those popularized on Instagram, suggesting the "owner" of this iPhone has manipulated the pictures with filters and other decorations. The ability to edit and share our photos almost instantly has in a way changed the way we take pictures in the modern era. Photos are now not just personal mementos, but ways to communicate our personality to friends, family, and even total strangers on social networks.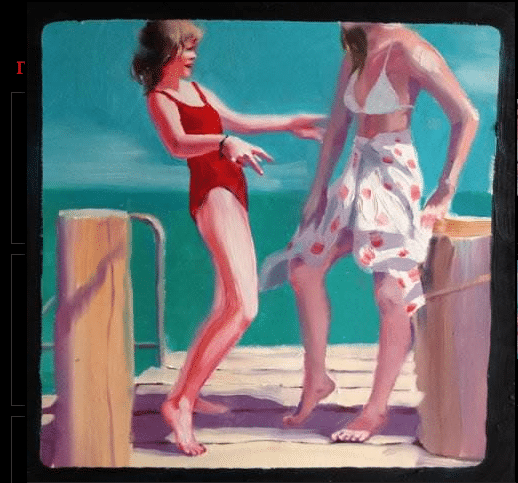 What makes Fedorova's project more relatable is that her painted "photos" don't contain specifics. The photo of a cyclist in an urban downtown doesn't suggest exactly where on the map that cyclist is. It could be St. Petersburg, New York, Paris – it depends on the viewer's imagination. In one scene at the beach, a woman and a young girl converse on a dock, but one woman's face isn't visible in the frame, allowing a bit of anonymity and the ability for the viewer to fill in the blanks.
This theme is frequently seen in Fedorova's work. Since 2005, the 32-year-old, St. Petersburg-born artist has painted a number of different works that draw on the idea of anonymity. In her 2010 collection "Blue Beard," for example, the majority of paintings include scenes where the faces of her subjects are obscured. A woman behind a veil, a close-up of a businessman that shows only him from the tie down, a man walking in the snow shown only from the scarf down – Fedorova's works have a way of making the viewer feel like they can be looking at paintings of anyone almost anywhere.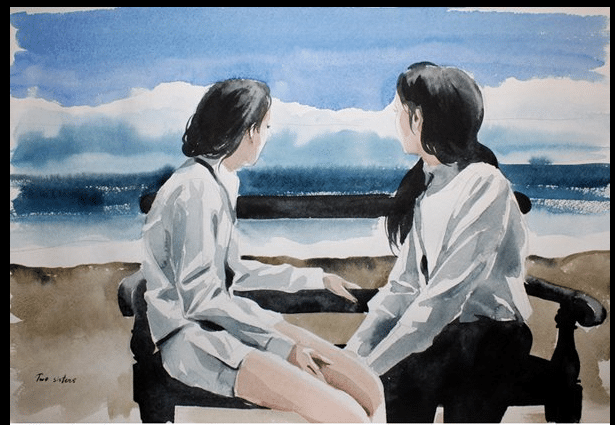 With digital smart phone photography, we can edit and manipulate our pictures – slices of our lives – to achieve a certain outcome that we choose to share with the world. Like the hipster in front of street art trying to look cool, the photos we share – as well as the photos we choose to not share – say something about how we want the world to perceive us. Fedorova's lack of specifics in the faces and places she paints suggest that this want to "curate" the moments we capture and to manipulate how we're perceived by the people we share those moments with is not an uncommon desire.
Fedorova's "Photostream" is now on display at St. Petersburg's Lazarev Gallery, as part of the "Try Me! Discover Art" exhibition, featuring interactive, moveable works of art from five different artists.
A portfolio of Fedorova's other works can be viewed by clicking here.
"Photostream" by Marina Fedorova
Lazarev Gallery, 5/5 6th Line (Metro Vasileostrovskaya)
Open daily 11 a.m. to 8 p.m.
Admission free