Zurab Konstatinovich Tsereteli was born in the Georgian capital of Tbilisi on January 4, 1934. A somewhat controversial figure, he is a well-known painter, sculptor, architect and decorator, known best for his works of monumental size and often controversial abstraction.
He is perhaps Russia's best politically-connected artist. In addition to serving in the Public Chamber of the Russian Federation (an advisory organ to Russia's legislative organs), he is the President of the Russian Academy of Art, and has been named both a People's Artist of the USSR and a People's Artist of the Russian Federation. He is also the director of the Moscow Museum of Modern Art, director of the Museum and Exhibition Complex of the Russian Academy of Arts.
Internationally, he is also president of the Moscow International Foundation for Support to UNESCO, the UNESCO international chair of Fine Arts and an official UNESCO Goodwill Ambassador.  He is also a member of European Academy of Arts, and participates in France and Spain's Academies of Art as well as his native Georgia's (where he still hold citizenship) Academy of Science. He has taught art at the State University of New York and the College of Arts and Science at Brockport, NY.
More recently, Tsereteli has distinguished himself as a philanthropist, and has donated several of his works to charity as well as advocating for the construction of both orphanages and facilities for recreation.
Tsereteli was raised in an artistic environment, as his uncle was the famed Georgian artist Georgiy Nizharadze and the family was often visited by Georgian artists such as Sergo Kobuladze, David Kakabadze, Ucha Dzhaparidze, Apollon Kutateladze, Chiko Kazbeli, and Dursun Imnashvili. His artistic leanings were evidently encouraged from a young age, and he graduated from the Tbilisi Academy of Arts in 1958 with a concentration in painting.  Already a controversial figure while still in school, Tsereteli's graduating work entitled "A Song about Tbilisi" was not accepted by the then-Soviet academy, for it was believed to run counter to the "conventional elements of the broader artistic culture." Bowing to academic pressure, Tsereteli hastily produced "Portrait of a Sportsman" in two weeks, and received his degree.
While in attendance at the Academy, he often labored for twelve to sixteen hours a day, and worked with Georgian artists Tengiz Mirzashvili, Givi Kesheleva, Kote Chelidze, and Nelly Kendalaki. He later went on to form acquaintances with famed painters Picasso, Chagall, and Dali. Shortly after graduation, in 1959 he displayed his works at the Transcaucasus Exhibition, alongside those of artist T. Sakhalov and Azeri artist T. Narimanbekov.
Tsereteli first found employment with the Institute of Ethnography and Archaeology at the Georgian Academy of Sciences.  During his time at the Institute, he honed his artistic skills and had the opportunity to closely study folk art and the details of historic Georgian architecture.  He was afforded the opportunity to work under the tutelage and guidance of Georgiy Chitaya, a Georgian ethnographer and historian.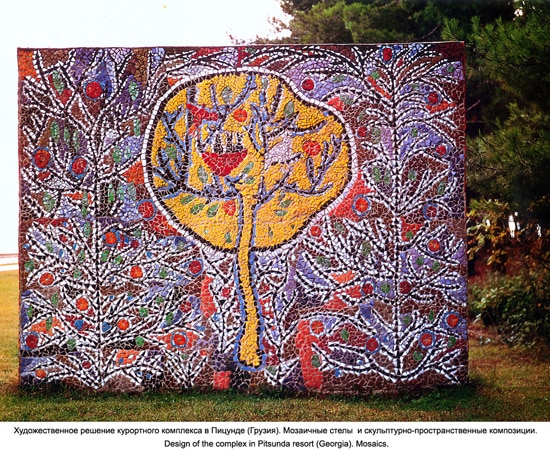 He began to distinguish himself early on in his career during the late 1960s, and created several mosaics for the resorts at Adler (located near Sochi, Russia) and Pitsunda (now in the breakaway region of Abkhazia), as well as for the cities of Tbilisi (now Georgia's capital) and Ulyanovsk (along the southern end of Russia's Volga River).
Upon seeing Tsereteli's works in Adler, the famous Mexican artist David Alfano Siquerios noted, "I think that he has entered boundless spaces of art of the future, which combine sculpture and painting."  Tsereteli's willingness to experiment in stained glass and cloisonné enamel contributed to his success in designing architectural and landscape ensembles, and he used several enamel panels while adding decor to the Brazilian, Portugese, Japanese, and Syrian embassies in Russia.
However, during the 1970s, Tsereteli turned his attentions to works executed in metal, which was to perhaps be a foreshadowing of several of his better-known works today.  His work was featured on a relief of the Izmailovo hotel designed for the 1980 Moscow Olympics, and in 1979, a monument known as "Happiness to the Children of the World" was erected in New York in honor of the Paralympic Games.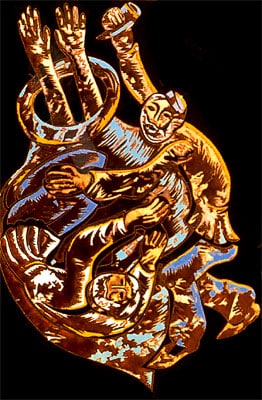 Although he was educated as a painter, outside of the territory of the former USSR, Tsereteli is perhaps best known for his monuments, which can been seen in the United States, England, Spain, Italy, France, Israel, Japan, and Russia.  He began monumental work as early as the 1960s. Perhaps his most controversial piece is the three-hundred-and-twenty-two foot steel, bronze, and copper monument to Tsar Peter the Great, which now resides on a man-made island in the Moscow river. Erected in 1997, the statue has both its supporters and detractors, and it has even provoked enough attention and ire to rank tenth in VirtualTourist's 10 Ugliest Buildings and Monuments.  Among its critics is sculptor Grigory Shpigelsky, who notes that  "the statue must go, and there is no question about it because it doesn't belong here in the first place…It is so out of place here and so immense that it completely dwarfs the historic environment in its vicinity, which no monument should be allowed to do in a city like Moscow." Other critics have noted that it bears a striking resemblance to a monument to Christopher Columbus that Tsereteli attempted to present to various American and European cities, with no success. Although Tsereteli enjoyed the patronage of former Moscow mayor Yuri Luzhkov, with Luzhkov's dismissal he too fell from favor at least on the city level, and was fired from his position as advisor to the Moscow city government by new mayor Sergei Sobyanin in February 2012. Sobyanin also considered removing the statue to Peter, but decided against it when it was discovered that it would cost some two million dollars to dismantle it completely and transport it away.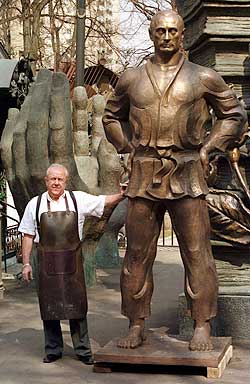 Other contributions to the world of monumental sculpture have also not always been welcomed.  In 2004, he unveiled a five-meter high statue of Vladimir Putin posing in judo gear, but rather than the acclamation he was surely expecting after two years of work, it was met with withering Kremlin commentary. "We did not expect such a well-known and successful artist to do such things. He should know better than anyone else that President Putin is extremely negative about such things. We are sure that this work will not be displayed anywhere but in the palace of the sculptor's house," stated official Kremlin sources.
Tsereteli has not only raised the ire of Russians, but of Americans as well.  His ten-story monument "To The Struggle Against World Terrorism" was presented to the United States and installed in New Jersey in 2006. Clad in bronze, the sculpture portrays a teardrop and includes the names of all those who perished in the 1993 and 2001 World Trade Center attacks. The sculpture was initially rejected by the arts community and and moved to a more discrete location. All the same, it has received the dubious honor of being ranked by Foreign Policy magazine as one of the top ten worst politically-influenced monuments.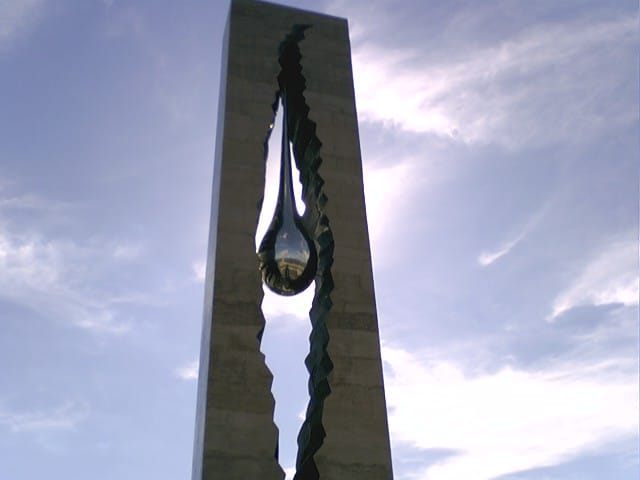 Some have claimed that, until recently, Tsereteli held a virtual monopoloy on artistic commissions in Moscow, making it difficult for other artists to launch their careers .  His contribution has not been limited to the colossal Peter the Great, and his other works have significantly changed Moscow's skyline – and not always controversially. During the late 1990s, he was involved with the rebuilding of the city's Christ the Saviour cathedral, originally destroyed under Stalin's orders, and designed the Manezh Square and Okhotny Ryad complexes in the shadow the Kremlin. He has also contributed to the war memorial on Poklonnaya Hill in Victory Park, Moscow.
Tsereteli has raised the hackles of art critics worldwide, yet holds a number of influential positions in the arts communities.  However, he appears as unstoppable as he is controversial, and he vows to create a monument taller than the Eiffel Tower.  However, for all his detractors and critics, he has still served to contribute immensely to the Georgian and Russian art scenes. His works can be seen the world over, and for better or for worse, he has become a household name in Moscow. Whether or not you can appreciate the Peter the Great statue, or the statue of Putin in his judo clothing, one must admit that his work has changed the face of Moscow and the Russian arts scene.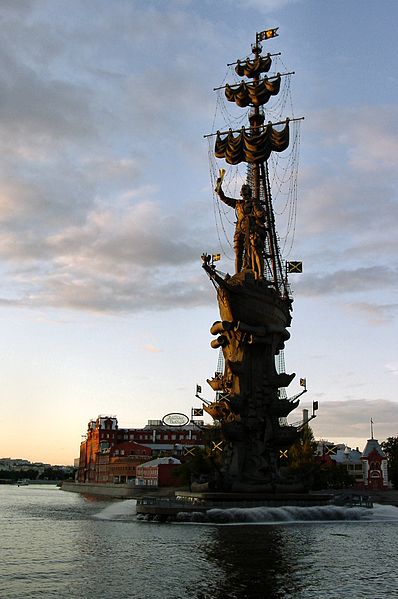 References:
Art Business News. Russian Sculptor Pays Tribute to "Struggle Against World Terrorism". Art Business News 33 (9), 2006.
Korolyov, Alexei. Controversial Sculptor Tsereteli Sacked As Moscow Advisor. Retrieved from http://en.rian.ru/art_living/20120227/171560327.html
Kishkovsky, Sophia. Controverial Sculptor Zurab Tsereteli Opens Museum in Georgian Capital. Retrieved from http://www.theartnewspaper.com/articles/Controversial-sculptor-Zurab-Tsereteli-opens-museum-in-Georgian-capital/26102
Loiko, Sergei. Sail on Bye-Bye. Retrieved from http://articles.latimes.com/2010/oct/08/world/la-fg-moscow-sculpture-20101008
Russian Life. Putin's Likeness. Russian Life 47 (4). 2004
Russian Life. Teardrop of Sorrow.  Russian Life 49 (5). 2006.
Russiapedia. Zurab Tsereteli. Retrieved from http://russiapedia.rt.com/prominent-russians/entertainment/zurab-tsereteli/
Tsereteli, Zurab. Biography. Retrieved from http://www.tsereteli.ru/eng/part_bio.php
UNESCO. Zurab Tsereteli. Retrieved from http://www.unesco.org/new/en/unesco/about-us/who-we-are/goodwill-ambassadors/zurab-tsereteli/
Кино-Театр. Зураб Церетели – биография. Retrieved from http://www.kino-teatr.ru/kino/painter/ros/42194/bio/
Люди Peoples.ru. Зураб Церетели. Retrieved from www.peoples.ru/art/sculpture/tsereteli/