As part of the Central Asian Studies Program, SRAS students took an excursion to The Kyrgyz National Museum of Visual Arts in Bishkek. While this wasn't my first time to the museum, this was my first time with an English-speaking guide who helped us to understand the art that we were looking at. Likewise, the first time I had been to the museum, approximately two years ago, it was under renovation. This time all of the exhibits were available for viewing.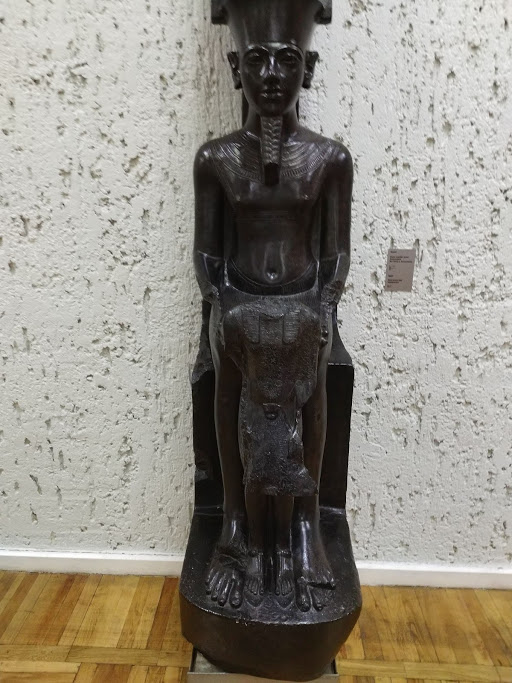 The museum was first opened in 1974. The first floor contains the museum's rotating, temporary exhibits, while the second floor contains their permanent artworks. There are over 3,000 art pieces contained within this museum from forty different regions. Out of these, 2,000 pieces were granted to the museum for exhibition from the State Gallery and the Museum of Oriental Arts. The pieces contained in the museum range widely from artifacts used by the nomadic people of Kyrgyzstan, including quilt work and external garments, to paintings and sculptures from France, Greece, Egypt, and a few others.
We began our tour by considering wooden and leather items used by the nomads. This section also included silver jewelry worn by women during this period, which was the preferred type of metal. Aside from bracelets and necklaces, silver was used for ornamented female headdresses. Stones were considered to be the most important part of Kyrgyz jewelry. Some of these jewelry pieces that were displayed were not for everyday life, but for special occasions only.
We also learned about Kyrgyz felt art, which is still used to make traditional rugs and other items. Usually two colors were involved as two layers of felt were placed one on top of another and a pattern was cut into the top layer to reveal the bottom. There were various styles for these types of rugs, including those called mirror, butterfly, modern, whole, embroidery, and plate.
This learning on Kyrgyz felt was continued at arts and crafts class that we had afterwards at our school. Our task was to sew together two pieces of felt to create a phone case for ourselves. During this class, we also learned new Russian vocabulary words that were related to this task: nomadic people, sheep, wool, felt, pattern, yurt, carpet, needle, wool thread, scissors, and to sew. It was very interesting to note that she assumingly approached all of the men in the class, presuming that none of them knew how to sew. This was only partially true. But she was much keener on helping them since she seemed to think they needed it. This was yet another manifestation of the gender norms surrounding domestication and house work that are still seen in Kyrgyzstan, even in this modern era. This class was a great compliment to what we learned at the museum.
At the museum, we also saw some other nomadic items such as traditional cookware for food, camel leather flasks and cups, a wooden trunk for food storage, and a contraption called a kur-kur, which was used for the transportation of kumis, a Kyrgyz national drink made from fermented mare's milk.
We then looked at some hanging yurt dividers, which looked a little similar to the rugs that we had just seen. The purpose of such was to divide the kitchen of the yurt (a traditional, collapsible tent-home) from other parts of the yurt. We then learned that two main colors primarily are used in Kyrgyz folk art: red and blue. Red is used as the national color, symbolizing bravery. Blue is used to represent the celestial bodies.
We then saw handmade clothes, such as men's pants and a female skirt. The men's pants had a fish on them, which meant that they were from the Issyk Kul region. As for the skirt, we were told that it had belonged to a married woman. After the birth of her first child, a skirt is given to the new wife from her mother-in-law. The skirt is made of warm material as its purpose is for moving between fields. The next item we saw was a beaded headdress of a married woman from the south of the country. In these styles, circles symbolize the sun. Kyrgyz folk art favors rich embroidery and often decorations of roses and tulips are used. For men, a traditional hat, known as a kapok, which was made from pumpkin, was displayed.  While these hats are typically made from sheep's wool, this had in particular has won prizes at the world exhibition for its uniqueness. Finally, in this section, we saw two saddles, one for use by each gender, which were inlaid with precious stones and covered with leather.
The next portion of the museum included contemporary art, from the 1960s onward. The first items on display in this section started out with a similar look to the large felt carpets we had just seen. But instead of patterns, they had people and animals on them, which had traditionally not been used in Kyrgyz art previously, due to superstition. But with many new up-and-coming Kyrgyz artists having gone abroad to the Moscow and Leningrad Universities to study, they were beginning to combine the old ways of art with new ones.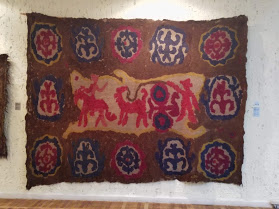 Afterwards, we moved into the paintings section of the museum, these paintings were as old as the 1930s and up. Beginning in 1934, S.A. Chukov, began painting a series of portraits and even won the Stalin Prize. His most famous picture is the Daughter of Soviet Kirghizia. For this reason, Chukov was known as the father of Soviet art.
The majority of the paintings in this section were from the 1960s. Our guide informed us that many were categorized as social realism. Many artists who painted in this form were from the Leningrad School and, therefore, kept to the traditions of Russian art. An example of one of these was an oil painting of a shepherd grazing with a dog, called Cowboy, painted by Viktor Tyurin. Its image was published in many popular newspapers when it debuted.
In this same section, our attention was then directed to the work of Kulchoro Kerimbekov, a landscape master, who often painted scenes of fishing and shepherding. He painted in bright color combinations. The example we were shown, Fisherman, was set in Issyk-Kul, depicting an atmosphere of labor.
Another artist, V. A. Kim, who did not have cultural ties to the region, came to Kyrgyzstan specifically to paint the Kyrgyz landscape. His choice of colors differentiated his work. He himself, unlike the other artists in the museum, graduated from a school in Central Asia, more specifically, the Tashkent Art Institute, rather than from Russia. His main landscape interests include mountains and industrial themes. The paintings we saw were named Marble and On a Visit.
There was yet another noteworthy painting depicting social strife between rich woman and poor man who had fallen in love. This painting by J. Kadraliev was entitled Farewell. Later on, a song was written and dedicated to the woman in the picture. Like the artists mentioned above, this painter, too, was focused on the landscape in the background. The figures in the foreground were monumental compared to the landscape encompassing them, thus showing the primary role they played in nature.
Between the painting and sculptures sections, we first saw local art works of both genres. One sculpture was of Manas along with his wife and advisor, Kanykei. There was also art dedicated to Chingiz Aimatov, one of Kyrgyzstan's greatest writers. A sculpture called Mother Dear that commemorated the poem written by Chingiz Aitmatov, which in part describes the horns of a dear. There was a painting known as Red Apple, or First Teacher. There was also a bust of Chinghiz Aitmatov himself, in addition to the other sculptures dedicated to his poems.
Aside from all of the permanent exhibits, I was able to take a look at the artwork created by the local artists, which was displayed on the first floor, and which rotates every so often. I, myself, was glad to have had this experience with the help of an English-speaking guide so that I was best able to understand the different art pieces that I was looking at it. Since many of these pieces were not available for viewing the last time I was at the museum, I was happy to be able to experience the museum in its entirety this time around. Not only did this museum help me learn about Kyrgyz art, but also a little more about Kyrgyzstan's history.